Kurashiki/Okayama/Tamano ⇔ Osaka(Osaka Sta.・Namba・Minatomachi・Osaka Airport・USJ)
Express Bus  (Local Bus)
Total mileage
(occupied)
186~222km
Required time
(estimated)
3hrs.37mins.~5hrs.00mins.
Resting-place on the way
※To Osaka :Miki SA
To Okayama:Tatsuno-nishi SA
Voluntary insurance
Unlimited bodily injury liability insurance
Joint Operation Company
Ryobi-holdings,Shimoden Bus
Chugoku JR Bus,
Drivers
1 driver on board
※May change due to road conditions.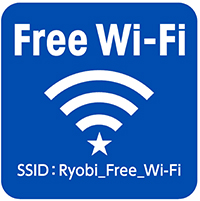 Timetable
Fares(From March 1,2020)
As of March 1 ,2020
Section
Kurashiki Sta.
Kurashiki IC

Hachihama Civic Center
Tai
Tamano Eigyosyo
Chikkoginza

Chikkoshinmachi

Okayama Sta.
Okayama University line
OKayama IC
Sanyo IC

Osaka Sta.
Namba Express BT
OCAT

Universal Studio Japan

One-way
3,550
3,600
3,400
3,250
2,800
Round-trip
6,500
6,600
6,400
6,000
5,200
Child
1,780
1,800
1,700
1,630
1,400
Student
2,650
2,700
2,600
2,500 
2,450
WEB
3,020
3,040
2,870
2,760
2,450
Osaka Airport
One-way
3,200
3,250
3,050
2,850
2,500
Round-trip
5,900
6,100
5,800
5,400
4,900
Child
1,600
1,630
1,530
1,430
1,250
Student
2,600
2,600
2,600
2,400
2,400

WEB

2,730
2,770
2,600
2,450
2,410
Child fare : Half price of the one way fare for adults (any amount under 10 yen are rounded up) There are no round trip discounts.
Round trip discount tickets : Valid for 10 days including the out-bound route.
Ticket booklets are valid for 6 months from the date of purchase.
Student discounts applies to junior high school students, high school students, university students, and vocational school students.There are no round trip discounts for the student fare.
Please show your student card or any other documents that proves you are a student, if you request a student discount. If you do not show the document, the normal fare will be applied.
Internet early reservation discount (WEB)
Please make a reservation on the internet of mobile website, and purchase the ticket until 3 days before the date of departure.

(Please keep in mind that if there is no purchase made by the deadline, the reservation system will do an automatic cancelation)

Changes to the boarding date, service and location are not accepted. If you wish to make a change, please cancel and make a new reservation, and purchase a new ticket.

Cancelation of your reservation, and reducing the number of people are accepted. (However, the customer has to make the changes/cancelations on the internet or mobile site themself).

There are limited number of seats for internet early reservation discounts. Please make your reservation as soon as possible.

The internet early reservation discount does not have discounts for the child fare, student fare, disability fare, and round trips.
Bus Stops Location
Okayama
Osaka
Notification to the passengers
This is an express bus line.
Reservations can be made from on month and a day prior to the date of departure.

If you miss the express bus due to delay of airplanes at Osaka Airport , and if you have a certificate for that delay from the operating company, you can get on a ride later in the same day if there is vacant seat. However, if you miss the last bus, it is not possible to carry it over to a ride for the next day, so please submit for a refund. For the refund, you will still need a certificate of delay(No changes are accepted in internet early reservation discounts even with a certificate of delay).

All seats are reserved seats. Please make a reservation in advance.
You can get on the bus without reservations if there is a seat available on the day for all lines above.
Please make a reservation on the internet of mobile website, and purchase the ticket before the deadline.
Please purchase the round trip ticket at the ticket sales counter or affiliated convenience store after you have made the reservation, and before you board the bus.
After purchasing a ticket, or if you are using a book of tickets, there will be no charge of fee limited to the first change only.However, second changes are not accepted.
Change of service and refunds are not accepted if you miss the bus.
For tickets that were canceled before the time of departure, please start the refund procedure within a month at the counter of purchase. During this time, a predetermined refund fee will be charged.
The parking lots are controlled under reservations. Please make a request during the seat reservation process.
All buses are lavatory-equipped. However, in some cases, it is not available due to maintenance or other reasons. Besides, some buses of our joint operating company do not have lavatory.
The buses may arrive late due to the traffic conditions, so please make sure you have plenty of time.
All buses are lavatory-equipped. However, in some cases, it is not available due to maintenance or other reasons. Besides, some buses of our joint operating company do not have lavatory.
When acquiring personal information, we will clarify the purpose and use the information only according to its purpose. Although we will not generally use the information beyond its intended purpose, if we do so, we will acquire individual consent except in cases permitted by laws or regulations.
Please fasten your seat belts for safety reasons.

Purchase